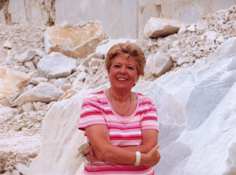 Hilde VAN SUMERE (1932-2013)
Born in Beersel October 15 1932
Died in Asse May 13 2013
Studies
1958-1964 : Académie Royale des Beaux Arts in the city of Brussels.
1965-1966 : Assistant of Professor Jacques Moeschal.
A powerful soberness characterizes the sculpture of Hilde Van Sumere. Either monumental or small her work consists always of geometric abstract compositions. The artists ' aim is to visualize silence, balance and harmony. All her non-figurative sculptures, whether she uses marble, steel, polyester or plexiglass, show an outstanding craftsmanship, a special dedication and a personal vision of the artist.
Hilde Van Sumere is a member of the Royal Belgian Academy of Science and Arts. She is an international famous artist who obtained many awards. Her sculptures form part of private and public art collections in different countries and they often embellish special sites.